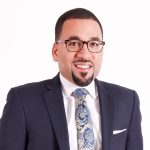 Executive Vice Chancellor for Institutional Advancement
Eric Lugo currently serves as executive vice chancellor for Institutional Advancement at City Colleges of Chicago. In this capacity, he oversees resource development, marketing, communications, community and legislative affairs, and economic and workforce innovation.

In 2015, Eric launched Conciencia Ventures LLC, an innovative practice with a mission to connect entrepreneurial and creative strategy to the social impact sector. He previously held the role of vice president in global philanthropy at JPMorgan Chase & Co., where he was responsible for the local implementation and communication of the global philanthropic strategy in Illinois and Minnesota. In this capacity, Eric led activities in three core areas – workforce readiness, financial capability, and small business development. Prior to JPMorgan Chase, Eric was the senior development officer at Instituto del Progreso Latino, a leading workforce development, education, and civic organization where he played a transformative role in the institution's growth.

Eric is a member of the Community Advisory Board of Benefit Chicago, the Nuestro Futuro: Latino Heritage Endowment Steering Committee at the Chicago Community Trust, the Chicago Council at the United Way of Metro Chicago, as well as serves on the Board of Directors of Chicago Run. In 2015, Eric was selected for the Marshall Memorial Fellowship, the German Marshall Fund's flagship leadership development program. He is a 2016 Inaugural Hispanics in Philanthropy NextGen fellow, and a member of the 2012 Inaugural Class of the Edgar Fellowship, developed by former Governor Jim Edgar in conjunction with the University of Illinois at Urbana-Champaign – Institute for Government and Public Affairs.