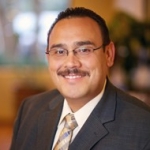 Ernesto Cantu, Area Superintendent overseeing five Texas Regions, is the former Executive Director for IDEA El Paso, where he launched four schools, serving almost 5000 students in 2021. IDEA El Paso is part of IDEA Public Schools, one of the fastest-growing charter management organizations in the United States that plan on opening a total of 20 schools in El Paso.

During his time at IDEA Public Schools, he has been a tutor, classroom teacher, director of new site development, director of operations/assistant principal of operations, principal, senior vice president of schools, and most recently, executive director. Prior to his time at IDEA Public Schools, Ernesto taught 7th grade English Language Arts at a South Texas middle school and GED and ESL classes for Windham ISD at Lopez and Segovia State Jails in Edinburg, TX.

Ernesto joined the U.S. Army in 1988 and served until 1991. He was stationed overseas in West Germany, and he also served in Operation Desert Shield/Storm. He holds a bachelor's degree in history with a minor in English and a master's degree in education from the University of Texas Pan-American. Ernesto, his wife Cynthia and two of their children, Klarissa and Ernesto Emiliano, reside in El Paso; his oldest daughter, Alyssa lives in South Texas.