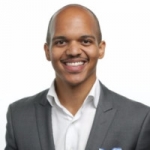 Evin Floyd Robinson is the president of America On Tech (AOT), an organization preparing the next generation of technology leaders. AOT's work has been highlighted in media outlets such as CNN, Forbes, TechCrunch, BET, PBS, Black Enterprise, Univision, and Cheddar, among others.

Evin started his career as a technology consultant at Accenture, advising global investment banks and financial institutions on technology transformations. He has been recognized as a Forbes Under 30 Lister, Wells Fargo Millennial Activist, City & State Tech Awardee, Black Enterprise BE Modern Man, and a South by Southwest (SXSW) EDU featured speaker.

Evin graduated from Syracuse University with degrees in information management, economics, and communication rhetorical studies, and completed his executive education in social entrepreneurship at Stanford University's Graduate School of Business.