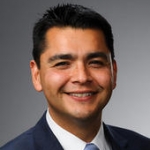 Felipe Perez is executive director of teacher talent pipelines for Chicago Public Schools (CPS), where he leads efforts to improve teacher preparation, strengthen teacher diversity, and increase equity of access to teachers for students throughout Chicago's diverse communities.

Prior to his current role, he served as director of accountability for CPS's Network 3, supporting 26 elementary and high school Principals serving 17,000 students on Chicago's Westside to manage performance and ensure a focus on academic growth and achievement. Before that, Felipe served as director of operations for the Austin Multiplex High School campus, three co-located neighborhood high schools serving Chicago's Austin community. He joined Chicago Public Schools in 2013 as the chief of staff in the district's Talent Office, leading the revamp of the annual evaluation process for all district classified staff.

Before transitioning into education through the Broad Residency, Felipe worked in public safety as emergency services policy director for the Los Angeles Mayor's Office, and as a project management and strategic planning consultant for police, fire, and emergency medical services agencies. He is a United States Army veteran who served on reconstruction missions in Iraq and Afghanistan.

Felipe holds a bachelor's degree in economics and political science from Williams College, a master's degree in public policy from the Harvard Kennedy School, and a master's degree in educational leadership from the Broad Center.