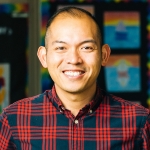 Godfrey Santos Plata is entering his fifth year as director, regional leadership and development for Leadership for Educational Equity. He also recently finished his first campaign as a grassroots candidate, challenging a three-term incumbent for California State Assembly's 53rd District to win over 47,000 (43%+) votes without political name recognition and with five times less funding.

As a queer, Filipino immigrant and a community and political organizer, he volunteers his support of organizing work with various Los Angeles-based groups rooted in racial and class justice. Godfrey is proud to have organized with multiple volunteer efforts to curb and eliminate exclusionary discipline policies like in-school suspension, suspension, alternative school referrals, and expulsions in local districts, and to mobilize middle and high school students to advocate for policy solutions they care about, including ones impacting immigration rights and safe routes to school.

He serves on a Los Angeles Unified Steering Committee for Asian American Native Hawaiian Pacific Islander (AANHPI) students, and on the Los Angeles County Democratic Party Central Committee. Prior to his organizing work, Godfrey supported teacher preparation work for nine years and is a former seventh-grade teacher himself. He is an alum of the Los Angeles and Long Beach Unified School Districts, a foodie, a lover of art, travel, and learning, and will never ever stop working towards a world where Black Lives Matter.