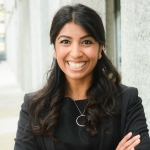 Indrina Kanth serves as chief of staff at Rocky Mountain Prep (RMP) where she leads annual planning, diversity, equity, and inclusion efforts, as well as growth and data strategy.

Prior to joining RMP, Indrina worked at New Schools for New Orleans as the chief portfolio officer overseeing the organization's school investment processes, and working closely alongside charter school and district partners to deliver an excellent public school to every child in the city. Previously, Indrina worked on Teach For America's national recruitment team where she led recruitment directors and recruitment associates working with universities around the country.

She graduated Summa Cum Laude and Phi Beta Kappa from The George Washington University with a bachelor's degree in international affairs and a minor in creative writing.