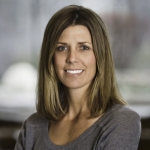 J.A. & Kathryn Albertson Foundation
Jamie Jo Scott is president of the J.A. and Kathryn Albertson Family Foundation, a private family foundation started in 1966 by her great grandparents, Joe and Kathryn Albertson. The Foundation is committed to making impactful investments in Idaho across three pillars including learning, community, and awareness; and awards approximately $30-$35M per year in support of select programs and initiatives.

Jamie has been a leader in local and statewide philanthropy in Idaho. She served as the J.A. and Kathryn Albertson Foundation's community grants coordinator and as a member and treasurer on the Foundation's board of directors for more than 10 years before acting as executive director from 2008-2014. She has been active in the non-profit community as a board member and board committee chair of the Bogus Basin Recreational Association, and past board member of the Bishop Kelly Foundation, the Boise Art Museum, and the Special Olympics World Winter Games. In 2017, Jamie opened Mill 95, Idaho's first and premier source for hops processing. Mill 95 is one of eight business entities that comprise the Alscott family office, whose investments span agriculture, aviation, hospitality, manufacturing, and real estate. All entities are owned by the Scott Family and each operates independently within the state of Idaho.
Jamie is a Boise native and mother of two sons. She earned a bachelor's degree in fine arts from the College of Idaho. She brings her personal, professional, and educational experience, her entrepreneurial spirit, and a passion for a better Idaho to her leadership roles.