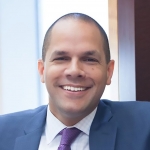 President & Chief Executive Officer
Former Virginia Secretary of Education, Dr. Javaid Siddiqi, is the president and chief executive officer of the Hunt Institute. Most recently, he served as the director of the Hunt-Kean Leadership Fellows, which partners with senior-level political leaders who have the knowledge, skill, and will to be effective, reform-minded education policymakers. Under his leadership, the national, nonpartisan Fellowship has garnered praise from former governors and generous financial support from major funders across the country.

Javaid's career spans over 15 years in education and education reform and policy. He began his profession as a high school teacher, assistant principal, and as a principal in Chesterfield, Virginia, where he led the implementation of Expeditionary Learning – a nationally recognized school reform model. As secretary of education in Gov. McDonnell's Cabinet, Javaid assisted in the development and implementation of the Commonwealth's education policy; and provided guidance to 16 public universities, the Virginia Community College System, five higher education and research centers, the Department of Education, and the state-supported museums. Prior to his appointment, he served as deputy secretary of education where he focused his efforts on teacher quality and improving educational outcomes for all students.

In addition to an extensive history of leadership service, Javaid continues to actively serve his community and state. He is an Aspen Institute Fellow and a member of the Chesterfield County School Board. Javaid is a graduate of Richard Bland College, Virginia State University, and Virginia Commonwealth University where he received both his undergraduate degree and doctorate in educational leadership.