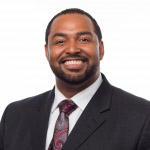 Jelani McEwen is the chief executive officer for The Citizen Group. Previously, Jelani was the director of external affairs for the Illinois Network of Charter Schools (INCS), where he utilizes marketing and community organizing tactics to galvanize support for charter public schools.

Before coming to the Illinois Network of Charter Schools, Jelani was the project director of the High School Graduation Initiative at Chicago Public Schools, where he managed two accelerated credit recovery programs at Harper and Marshall High School. Under Jelani's leadership, these programs helped 500 students who had dropped out of high school obtain their high school diplomas.

Jelani began his career in education reform 11 years ago as a community organizer and youth worker at Mikva Challenge, where he developed a curriculum to train teachers in grassroots activism and supported over 5,000 high school students' activism projects. Early in Jelani's career, he was a teacher at Urban Prep's Englewood campus and an AmeriCorps volunteer at the MATCH School in Boston.

Jelani is a graduate of the University of Notre Dame, holds a master's degree in social service administration from the University of Chicago, and is also a proud alumna of the Education Pioneer's Fellowship. He is also a member of the Omega Psi Phi Fraternity, Inc.