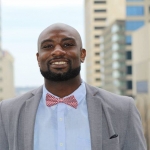 John Little, III is a Nashville coach at Organizer Zero. Prior to this role, John was the director of The Surge Team, the grassroots organizing arm of Memphis Lift, a first of its kind, groundbreaking education reform movement of parents from communities in Memphis which suffer from chronically low-performing schools. John is also a founding member of the Memphis Lift team.

John has lived professionally and personally at the intersection of politics, organizing, and education reform for many years. His past experiences include serving as the director of community engagement for the Tennessee Charter School Center, working as a strategist on numerous political races throughout the country, and leading the Governor's Children's Cabinet.

Among his honors, John has been recognized by his alma mater Tennessee State University as a 2015 Distinguished Alumni, and by the Nashville Scene as a 2014 Top 8 People to Watch and Best Political Operative. John is the father of a highly intelligent, rambunctious student at Nashville Classical Charter School.

He is current school board member for Metro Nashville Public School Board.