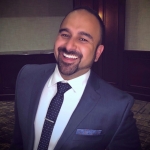 Director, Career Continuum
Jorge has spent the last decade leading and transforming college access programs through culturally responsive counseling and leadership development, strategic planning, and data-driven decision making processes. As Director of Career Continuum, Jorge leads the High School Career Integration strategy for the KIPP Foundation. Most recently, Jorge led the turnaround work for College Track East Palo Alto, where he created systems, structures, and processes that led to a stronger culture of accountability for staff and students while continuing the legacy of College Track's oldest site. Before joining College Track, Jorge built and restructured the college programming framework and strategy for a network of charter schools in Central California serving over 1,000 students.

Over the course of the 10 years that Jorge has led college access initiatives across national and regional organizations, he has been instrumental in leading and supporting leaders across national regions in building out their college access strategies, while creating innovative frameworks that push for more integrated career pathways and persistence strategies across the nation. Jorge has led professional development around college and career access, culturally responsive counseling, and design thinking for dozens of college counselors and school leaders. He currently serves as part of the board of directors for OurSchools, Inc.,and is the co-chair for the Preparate Conference Committee at the College Board.

Hailing from a small town in Michoacan, Mexico and raised in the rural landscape of Northern California, Jorge holds a bachelor's degree Chicano/a studies from the University of California - Los Angeles and a master's degree in Applied Psychology from New York University.