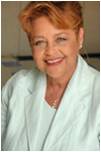 Deceased

Judy Burton is the founding president and chief executive officer of Alliance College-Public Schools. She launched the Alliance College-Public Schools, a non-profit charter management organization whose mission is to open and operate a network of high performing middle and high schools in California.

Alliance opened its first high school in 2004 and has successfully grown the network to 17 high schools and 9 middle schools by 2014 and will continue to achieve the organization's goal of 50 high performing schools in operation. All Alliance schools are in high poverty historically under performing communities and 100% are significantly outperforming nearby neighboring schools. Four Alliance high schools are 2009 California Distinguished Schools, three are currently performing among the top 10 high schools in LAUSD and Alliance Gertz-Ressler High School was the only Los Angeles National Blue Ribbon High School in 2010. The 2011 highest performing charter high school in Los Angeles was Alliance Dr. Olga Mohan High School. In 2011 the Alliance launched blended-learning with one-to-one computers for students as the new educational model for all future Alliance schools.

Over the past eight years The Alliance has been awarded public grants including one of the 49 national i3 Grants; and the Federal Quality Charter Schools Expansion grant to open 10 new schools over the next 5 years. The James E. Irvine Foundation and the Harvard Southern California Club acknowledged Burton with 2010 Education Leadership award. Claremont University awarded Burton an honorary Doctorate of Education Degree in 2011.