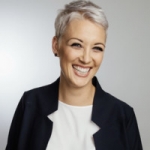 Chief People + Impact Officer
Spurs Sports & Entertainment
Kara Allen (she/ella) trusts that communities have the answers and is an unapologetic believer in young people and the adults that uplift them.

Kara joined Spurs Sports & Entertainment (SS&E) as its first chief impact officer and executive director of Spurs Give in October 2021. In February, she also assumed the role of head of people. In this role, she leads all aspects of community and societal impact, including SS&E's philanthropic arm (Spurs Give), and provides oversight for all philanthropic engagements, community investments, and nonprofit partnerships alongside all internal and external initiatives that advance diversity, equity, inclusion and belonging, social justice and sustainability for SS&E. Kara also leads youth sports (Spurs Sports Academy), crisis management and crisis response initiatives and all People Operations (HR) functions for SS&E which includes SS&E's flagship corporate learning center, SSEU (Spurs Sports and Entertainment University).

Prior to joining SS&E, Kara served as chief executive officer and led the national expansion of NewRoot Learning Institute. She previously served as the president and chief executive officer of a Los Angeles-based nonprofit that provides housing and wrap-around thriving support for young people impacted by the foster care system and housing insecurity.

In addition, Kara teaches graduate courses, serves on the Board of Directors of CoachArt and The Wayfarer Foundation, loves to bike to donuts with her nine-year-old daughter and is the biggest fan of her elder little human who is in med school at UC Davis.