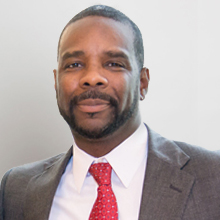 Director: Full and Complete Literacy, Now (Education Committee)
Before supporting Honors Pathway's efforts to improve college graduation rates, Kareem Weaver was a managing partner at NewSchools Venture Fund where he co-led the Innovative Schools team and provided support to schools within the portfolio.
Kareem also served as New Leaders' Executive Director of the Western Region where he developed partnerships with school systems, supported their strategic planning, and helped develop their leadership pipelines to spark improvement in academic achievement. He supported New Leaders' redesign of their signature training model and the development of new, innovative programs that accelerate student learning.
Before that, Kareem was an award-winning teacher and administrator in California and South Carolina who improved students' academic and non-academic outcomes in traditional schools and within Department of Juvenile Justice facilities. Additional experiences include training educators to leverage personalized learning platforms with LeapFrog SchoolHouse and supporting community engagement through the Oakland NAACP.
Kareem has an undergraduate degree from Morehouse College and a Masters in Clinical-Community Psychology from the University of South Carolina. He is a first-generation college graduate and an alum of A Better Chance (ABC) as well as Leadership Education And Development (LEAD), organizations that he credits with helping him gain access to educational and professional opportunity.