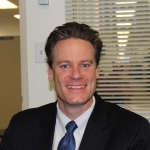 National Catholic Educational Association
Dr. Kevin Baxter is the chief innovation officer for the National Catholic Educational Association. Previously, he was appointed senior director and superintendent of Catholic Schools for the Archdiocese of Los Angeles by Archbishop Jose Gomez on July 1, 2015. In this role, Kevin was responsible for coordinating and implementing the vision for growth for Catholic Schools in the Archdiocese of Los Angeles, with a student population of approximately 78,000, from preschool through 12th grade. His focus was on aligning the elementary and high school departments to more effectively and efficiently meet their own goals for growth and communicating to all stakeholders progress toward those goals.

Prior to this role, Kevin served as superintendent for elementary schools in the Archdiocese of Los Angeles from July 2009 through June 2015 and was principal at American Martyrs School from 2004-2009 and principal at St. Columbkille School in South Los Angeles from 2001-2004.

Kevin has been a part-time faculty member in the School of Education at Loyola Marymount University since 2002. His classes have included private school law and ethics, organizational leadership, financial and human resource management and context and current topics in private education. His research interests include leadership in Catholic education, specifically focused on financial and human resource management; dual language immersion; special needs inclusion in Catholic education; and the law and Catholic/private education.

Kevin graduated from Villanova University with a BA in English and minor in communications. He holds a master's degree in secondary teacher education and a California Clear Credential in biology/general science from Loyola Marymount University. He also has his Tier I and Tier II professional administrative services credentials. He holds a Doctorate of Education degree from the University of Southern California in educational leadership. Kevin lives in Hermosa Beach with his wife Kim and their six children.