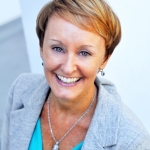 Chief Executive Officer & Board Chair
Kristin Ehrgood is Flamboyan Foundation's Chief Executive Officer and Board Chair. Since launching Flamboyan in 2008, Kristin has led the Foundation's work to ensure a day where every child, particularly those most impacted by inequity, will have the opportunity to live a fulfilling life. Kristin oversees the Foundation's efforts to ensure students are prepared to succeed in school and beyond, tailoring programs
to meet the unique contexts in which the Foundation operates. In Puerto Rico, Flamboyan is ensuring
students are reading in Spanish on grade level by third grade while building a thriving philanthropic and nonprofit sector.

Flamboyan also created the Flamboyan Arts Fund in partnership with Lin-Manuel Miranda, his family, and the Hamilton musical to preserve, amplify, and sustain the arts in Puerto Rico post-Hurricane
María. Flamboyan also works on a range of collaborative initiatives that allow the Foundation to flexibly meet the changing needs of communities as they arise.

Prior to starting Flamboyan, Kristin was the cofounder of Sapientis, a leadership network focused on making education a top priority in Puerto Rico.