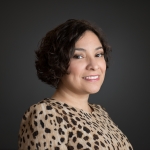 Leticia de la Vara works as chief of staff at The New Teacher Project (TNTP) engagement department. In this role, they provide strategic advisement and support as well as overseeing the development and growth of special projects for the organization.

Leticia joined TNTP in 2016, and prior to that held leadership positions at Friendly House, UnidosUS (Formerly National Council of La Raza), Expect More Arizona, and One Arizona – all recognized national and state-based civil rights advocacy and social service organizations. In those roles, they worked with elected officials, community-based organizations, grassroots and grasstop leaders, business chambers, universities, and state and federal entities. Leticia has experience in melding policy with programs and has worked with a variety of populations to improve and enhance opportunities for historically marginalized communities.

Outside of work, Leticia serves on both the Arizona state and national ACLU governing boards, and is Vice Chair of the AZ Latino Leaders in Education governing board. Leticia has previously served on women's health, education, Latino advocacy, and housing boards for various nonprofit organizations and the US Commission on Civil Rights - AZ Sector. Leticia has been acknowledged with various awards including the Phoenix Business Journal's 40 Under 40, and the Arizona Hispanic Leadership Institute's 40 Under 40 awards and is a 2021 recipient of Valle del Sol's Mom of the Year award.