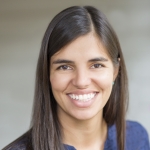 Founder & Executive Director
Maria P. Hernandez is the founder and executive director of VELA, a nonprofit organization based in Austin, Texas. VELA empowers families of children with special needs, starting with the caregiver. Maria founded the organization in 2011 to provide Spanish and English-speaking parents with hands-on courses, support, and community to provide families the opportunity to create the very best outcomes for their children.

Before creating VELA, Maria worked for six years as a bilingual speech and language pathologist across home health, school, and clinical settings, providing direct services to children with special needs ages infant - 21 years old and their families. It was during this time that she observed the most glaring gaps in services, specifically for caregivers.

Maria serves on Austin Independent School Districts Special Education Advisory Council, IDD ACT Intellectual and Developmental Disability Alliance of Central Texas (IDD ACT), Panel of Professional Advisors for Autism Society of Texas, and the Blue Cross Blue Shield of Texas STAR KIDS Advisory Council.

In 2006, Maria completed her master's degree in communications sciences and disorders at The University of Texas at Austin and has a bachelor's degree in hearing and speech sciences from the University of Maryland at College Park. She is originally from Bogota, Colombia.