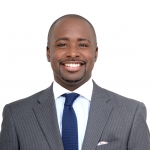 Los Angeles City Council Member
Councilmember Marqueece Harris-Dawson was sworn into office on July 1, 2015. A long-time community organizer in South LA, Marqueece has deep roots in the community as he recently served as President and CEO of Community Coalition, one of the most progressive non-profits in the city.

In 1995, he joined Community Coalition under then founder and current Congresswoman Karen Bass. His first campaign publicized the horrendous conditions of inner city high schools and the inequities in the distribution of public funding. It resulted in an unprecedented $153 million for school repair and modernization in South LA schools.

His efforts were heralded by Oprah Winfrey and as the first successful effort to include equity a key determinate in the dissemination of public school funds. It set the basis for winning universal access to college prep classes as well as reforms to end discriminatory targeting African American and Latino students with the harshest disciplinary remedies.

He galvanized South LA families to address public safety in the most humane and effective way possible, working with law enforcement agencies, city leaders, local residents and businesses to reduce crime and violence by transforming neighborhood parks, and decreasing nuisance business activity that foster crime.

Marqueece and his wife Karrie are proud homeowners in South Los Angeles.