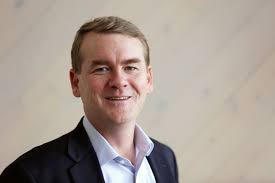 Michael Bennet, Senator from Colorado, has served most recently as the Superintendent of the Denver Public Schools. As a dedicated public servant with comprehensive experience as a businessman, Michael has a proven record of facing tough tasks at critical times. As Superintendent, Michael worked to improve student achievement and classroom performance, while also overseeing a halt to years of budgetary cuts in the Denver Public Schools. While serving as Chief of Staff to Denver Mayor John Hickenlooper, Michael was credited with leading the way on balancing a historic budget deficit. Prior to his service to the city, Michael was a Managing Director at the Anschutz Investment Company, where he managed the restructuring of over billion in corporate debt.

With the help of Denver Public Schools' principals and teachers, Michael was able to turn around a school district whose achievement rates were flat and, where, for year after year, budgets were cut. Achievement and graduation rates are up, with Denver's kids growing faster than all the kids in the state on every single test at every single grade level with the exception of one math test. As Superintendent, Michael worked hard to end the annual cycle of budget cuts at the Denver Public Schools. 2008 was the first in five years that the district did not have to cut its budget, and this year Denver was able to invest an additional million in its schools and classrooms to enrich the academic environment for children. As a result, programs such as comprehensive Early Childhood Education have been enacted allowing over 2,000 four year olds to now have a full day Early Childhood Education. Additionally, for the first time in Denver's history, over 90% of five year olds have access to full-day kindergarten. These improvements are closing the achievement gap suffered by low-income children.

Michael, working with the Denver Classroom Teachers Association, revolutionized Procomp, a system of differentiated pay that pays teachers more for driving student achievement, serving in a high poverty school, or bringing a special set of talents, like the teaching of math or special education. Although the changes proposed were controversial, nearly 80% of Denver's teachers voted for the new proposal.

Prior to serving as Superintendent of the Denver Public Schools, Michael served for two years as Denver Mayor John Hickenlooper's Chief of Staff. Michael oversaw the balancing of an historic budget deficit, the renegotiation of several collective bargaining agreements, and a complete redesign of the police oversight function. Michael, along with the Mayor, was widely credited with putting together a first rate, diverse team to lead the City through unprecedented fiscal challenges.

Before joining Mayor Hickenlooper's administration, Michael was a Managing Director of the Anschutz Investment Company, where he had direct responsibility for the investment of over 0 million. He led the reorganization of four distressed companies including Forcenergy (which later merged with Denver-based Forest Oil), Regal Cinemas, United Artists, and Edwards Theaters, which together required the restructuring of over billion in debt. Michael also managed, on behalf of Anschutz, the consolidation of the three theater chains into Regal Entertainment Group, the largest motion picture exhibitor in the world.

Prior to moving to Denver, Michael served as Counsel to the Deputy Attorney General at the Department of Justice during the Clinton Administration. Michael was 2007 inaugural Fellow for the Entrepreneurial Leaders for Public Education Program, created by The Aspen Institute and the New Schools Venture Fund. He earned his bachelor's degree with honors from Wesleyan University and his law degree from Yale Law School, where he was Editor-in-Chief of The Yale Law Journal.