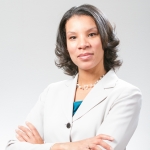 South Shore International College Preparatory High School (SSICP)
Michelle C. Russell's career began as an English teacher at University City High School in Philadelphia. Michelle transitioned to school and district leadership roles in Chicago, IL and Montclair, NJ culminating with being the proud Principal of South Shore International College Preparatory High School. Michelle entered the work of education with a focus on interrupting the inequity that plagues communities of color and perpetuates a system of marginalization of many groups within society.

Michelle brought her passion for change and commitment to equity to AnitaB.org where she served as the Vice President of Programs. While with AnitaB.org, Michelle's goal was to actualize AnitaB.org's mission for a world where the people who imagine and build technology mirror the people and societies for whom they build it.

The work of shifting society is no small feat and Michelle considers this to be her life's mission. She recently returned to school leadership as the proud principal of South Shore International College Preparatory High School. At SSICP, she continues her passion for student success and equitable outcomes for students who have been marginalized due to racial inequity. She firmly believes that all students can and will excel when given equitable access to the resources and supports necessary to attain success.

Michelle received a Bachelor of Arts in English from Franklin and Marshall College in Pennsylvania and a Masters in Educational Leadership from the National Louis University in Chicago.