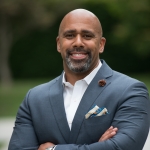 President & Chief Executive Officer
Miles H. Wilson serves as president and chief executive officer of EducationWorks, a nonprofit organization that serves students and opportunity youth, kindergarten to 26 years old, in high-quality education and career readiness programming. Immediately preceding his post at EducationWorks, Miles served as the director of talent & collaboration and convener of the Great Schools Compact for the Philadelphia School Partnership, a nonprofit organization working to create and expand great schools in Philadelphia. Prior to PSP, Miles served as regional director for the Mid-Atlantic for the Nonprofit Finance Fund, a leading community development financial institution. Previously, Miles served as executive vice president of People's Emergency Center and regional vice president at Community Education Partners, an education organization that operated grade 6-12 schools that provided academic and behavioral support programing for students to improve academic outcomes and reduce dropout rates.

Currently, Miles serves as chair for The Fellowship (Black Males in Education Convening) and trustee for the Children's Scholarship Fund and Inner Explorer, a national mindfulness organization. Miles also serves on the advisory committees of Bryn Mawr College's Nonprofit Executive Leadership Institute and Jounce Partners. Also, he has been selected to participate in the Chamber of Commerce for Greater Philadelphia's Roadmap for Growth Action Team. Miles is a proud graduate of Lincoln University and holds a master's in education leadership from Arcadia University.