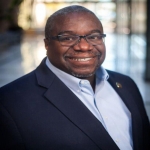 Founding Chief Executive Officer
Nathaniel Easley, Ph.D., is an independent consultant who uses his more than 30 years of experience in public education leadership to provide strategic advice to nonprofit executives and school board members. Previously, Dr. Easley served as Chief Executive Officer for RootED, a 501(c)(3) public charity focused on increasing the availability of high quality public schools in Denver through quarterback investments in educator/leader talent, high performing schools, and a supportive policy environment. Prior to joining RootED, Dr. Easley served as CEO of the Denver Scholarship Foundation, a 501(c)(3) public charity whose mission is to inspire and empower Denver Public School (DPS) students to achieve their postsecondary education goals by providing the tools, knowledge and financial resources essential for success.

Dr. Easley served as President and Secretary of the Denver Public Schools Board of Education from 2009 to 2013. He also worked as Vice President for National and International Programs for the Council for Opportunity in Education (COE) in Washington, DC. COE is a nonprofit organization dedicated to furthering the expansion of educational opportunities in postsecondary education for low-income and disabled youth and adults. He is a current member of Denver Mayor Michael Hancock's Education Compact, Vice President of the National College Access Network Board, and a member of the Colorado Education Initiative Board. He previously served as a member of the Community College of Denver Advisory Council, the Colorado School of Public Health Advisory Council, the Denver School of Science and Technology Public Charter School Board, the Denver Public Schools' Roots Public Charter School Board, and Colorado Latinos for Education Reform. He is also a past member of Colorado Governor John Hickenlooper's Education Leadership Council and the National Advisory Council for Texas Guaranteed Inc.

Dr. Easley has extensive experience helping disadvantaged students realize their dream of a college education and securing grant funding to sustain student programs. His master's and doctorate focused on how higher education can better support the academic success and college completion of Black and Latino/a students. Dr. Easley more than 30 years of experiencing working at the state, national and international levels to create opportunities for first-generation, low-income and ethnic minority students. He is a proud graduate of Denver Public School's Montbello High School.