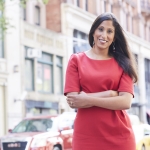 Pamela Inbasekaran is the executive vice president of Relay Graduate School of Education, a nationally accredited institution of higher education which teaches teachers and school leaders to develop in all students the academic skills and strength of character needed to succeed in college and life. She is responsible for running an equitable and financially sustainable institution that has a scalable business model, strong systems and infrastructure, effective communication and decision making, and a productive and inclusive team.
Previously, Pamela served as chief operating officer and chief talent officer at Relay and led community engagement and non-academic programming at North Star Academy Charter School of Newark, a member of Uncommon Schools. She also helped build and refine recruitment systems for the Uncommon Schools home office. She began her career as a middle school special education teacher and coordinator at M.S. 224 in the South Bronx, through Teach For America.
Pamela earned a master's in teaching from Pace University and a bachelor's degree in economics and American culture from the University of Michigan.