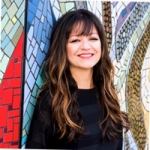 Renata Soto is a Costa Rican-born social entrepreneur based in Nashville, TN. She is a senior fellow at Harvard University's Advanced Leadership Initiative and founder of Mosaic Changemakers, a nonprofit organization with the mission of weaving a better South by elevating, supporting, developing and connecting Black, Latinx and other leaders of color who are advancing social, economic and racial justice. Mosaic aspires to build a Black/Brown/Gold leaders network of mutual support, mentorship and collaboration. Starting in her home state of Tennessee, Mosaic's flagship initiative is the Mosaic Fellowship, a program for leaders of color inspired by and modeled after her own transformative experience in the Pahara-Aspen Education Fellowship.

Before Mosaic and for 17 years, Renata led Conexión Américas, the nonprofit organization she co-founded in 2002 to serve Tennessee's Latinx and other immigrant communities. She was the visionary behind Casa Azafrán, a nonprofit collaborative established in 2012 and nationally recognized as a model for nonprofit innovation, collaboration and placemaking. Even President Obama took noticed and visited Casa Azafrán to host a town hall on immigration policy in 2014.

Prior to Conexión Américas, Renata worked at United Way of Metropolitan Nashville and led neighborhood-based investment strategies. Before moving to Nashville, she began her nonprofit career in Atlanta, Georgia, at the Latin American Association as communications manager in 1995.

Nationally, Renata served for 10 years on the board of directors, and as chair from 2015-2018, of UnidosUS, the nation's largest Latino civil rights and advocacy organization. Currently she serves as board chair of its sister organization, UnidosUS Action Fund, which works to expand the influence and political power of the Latino community. In addition, Renata serves on the board of directors of NewTech Network.

Renata was born and raised in San José, Costa Rica. She studied Communications at the University of Costa Rica. She also attended Kenyon College in Gambier, Ohio, which is what brought her to the US in 1993. She and her husband, Pete Wooten, have two children, Gabriel and Camila.