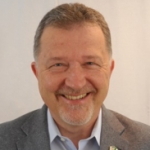 Riccardo Stoeckicht is a principal consultant with mevvn, LLC, a boutique consulting practice helping change-makers and entrepreneurs looking to (a) address society's thorniest issues, and (b) have a positive impact on the people who work for them as they seek to redefine work in a post-pandemic world. The practice promotes an outside-in approach to human capital leadership that leverages and empowers employees' voices to build the success of their employment journeys and careers while contributing to the success of their organizations.

Previously, he was the campus operations officer and co-leader of Odyssey Charter School in Wilmington, responsible for all school and campus operations in support of the academic endeavors of over 1,900 K-12 students.

Between 2014 and 2018 he was president & chief operating officer of Innovative Schools, an education support organization that brought problem-based learning, early college, and personalized learning models to Delaware, closing the organization at the end of 2016, and stepping into the field of education business consulting.

Starting in 2012, Riccardo was the first president of the Community Education Building (CEB) established to create a world-class, co-located educational environment for high-performing charter schools, with landlord-provided tenant services. It currently serves two schools and several education-focused non-profits.

From 2007 to 2012, as chief operating officer of the Rodel Foundation, Riccardo transformed the organization's human resource practices and streamlined its business operations. He was a member of the foundation's team that worked with the state to develop its winning RTTT application.
His journey in education began in 2004 as deputy director of the Latin American Community Center (LACC), the largest Latino-serving agency in Delaware. Prior to the LACC, Riccardo was a finance and business executive with DuPont in Brazil and the United States. In 1998 he and his family chose to make the U.S. their home.

Riccardo was a founding board member of Academia Antonia Alonso and Kind 2 Kids, a foundation serving foster youth. He enjoys solving trick jigsaw puzzles, collecting art, and watching foreign movies. He received a BA (mathematical economics and French) from Brown University and an MBA (quantitative analysis) from Northeastern University. He lives with his wife, Cecilia, in Wilmington.