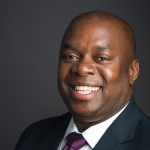 Richard Buery is chief executive officer at Robin Hood, New York City's largest anti-poverty philanthropy. Previously, he served as chief executive officer at Achievement First, a network of 41 public charter schools in New York, Connecticut, and Rhode Island. Prior to this role, he served as Chief of Policy & Public Affairs for the KIPP Foundation, leading national public policy, advocacy, marketing, communications, and alumni engagement efforts. He is also a Public Service Fellow at NYU Wagner School of Public Service, a Partner at the Perception Institute, and a visiting lecturer at Yale Law School.

Before KIPP, he served as Deputy Mayor to New York City Mayor Bill de Blasio, where he led Pre-K for All, which for the first time offers free, full-day Pre-K for every 4-year old in NYC, increasing enrollment from 19,000 to 70,000 children in 18 months, initiated the program's expansion to 3 year olds, launched Schools Out NYC, which for the first time offers free after school to every middle schooler in NYC, and managed ThriveNYC, a comprehensive effort to improve New Yorkers' mental health. He chaired the NYC Children's Cabinet, oversaw the Mayor's Young Men's Initiative and supervised numerous City agencies, including the Departments of Probation, Youth and Community Development, Aging, Veterans Services, and the Offices of Immigrant Affairs, Minority and Women Business Enterprises, and People with Disabilities. He also served as City's liasion to the City University of New York.

After matriculating at Harvard at 16, Richard founded the Mission Hill Summer Program in a Roxbury, Massachusetts housing development. He went on to teach fifth grade at an orphanage in Bindura, Zimbabwe and was the chief political officer and campaign manager to Kenneth Reeves, the mayor of Cambridge, Massachusetts. After graduating from Yale Law School, Buery clerked for Judge John Walker on the 2nd Circuit Federal Court of Appeals and was a staff attorney at the Brennan Center for Justice. Richard then co-founded iMentor, a national college access program which empowers low-income first-generation high school students to graduate college, and Groundwork, supporting the educational aspirations of Brooklyn public housing residents. While the CEO of the Children's Aid Society, one of New York City's oldest and largest social service organizations, where he was the youngest president and chief executive officer since the organization was founded in 1863, he founded the Children's Aid College Prep Charter School in the South Bronx.

He has taught at the Baruch College School of Public Affairs, NYU Wagner School of Public Service, NYU Tandon School of Engineering and New York Law School, and has lectured widely at schools including Harvard, Yale, Columbia, NYU, and the University of Michigan.

A 2016 Pahara-Aspen Institute Education Fellow, and a 2012 Fellow of the British American Project, he was named one of Ebony Magazine's "30 Leaders of the Future under 30," and Crain's "40 Leaders of the Future under 40," and received the Extraordinary Black Man Award from the United Negro College Fund. He also has been honored by the National Council of Negro Women, the Congressional Black Caucus, and others. He serves on the board of the Kresge Foundation, Protect Democracy, Atria Health Partners, iMentor, and the Grace Church School. Richard lives in New York City with his wife Deborah and his two sons.