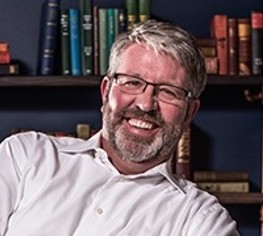 Co-Founder & Executive Vice President
Rob Birdsell is President of Catholic Virtual, an organization partnering with Catholic schools and diocese to develop and support their online education strategy. Rob continues to support Amerigo Education which he co-founded in 2016. Previously Rob was co-founder of the Drexel Fund. Rob brings over twenty-five years of business and private school management experience to Catholic Virtual and Amerigo. Earlier in his career Rob led the national expansion of both the Cristo Rey Network and the Accelerate Institute. Rob also worked as a management consultant and began his career as a high school English teacher.

Rob is a frequent speaker on education policy and sustainability for urban schools. He has spoken at the America's Promise Alliance's Grad Nation Summit, the Council on Foundations Annual Meeting, the United States Department of Education Leadership Conference, Notre Dame University's Conference on Sustainability for Faith-based Urban Schools, and Yale University's Summit on Education Reform. In addition, Birdsell has been published or quoted in the Wall Street Journal, America Magazine, World at Work Journal, Company Magazine, Time Magazine, the Atlanta Journal, the Milwaukee Journal, Conversations, and the Ligorian. He is a graduate of the University Wisconsin at Madison and received his MBA from the Lubar School at the University of Wisconsin at Milwaukee. Rob serves on the board of directors of Loyola Press.