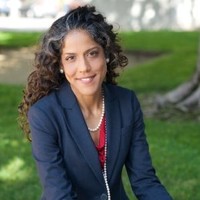 Managing Director, Education Fund
Russlynn Ali serves as Emerson Collective's Chief Education Officer. Emerson Collective, founded and Chaired by Laurene Powell Jobs, focuses on harnessing the potential of individuals from underserved communities to help them build a better life, and supports social entrepreneurs and advocates working for positive change. Ali leads the Collective's efforts to improve education access and outcomes for students, domestically and abroad.

Ali joined Emerson Collective from the U.S. Department of Education, where she served as Assistant Secretary for Civil Rights. Nominated by President Obama in early 2009, Russlynn Ali was confirmed by the Senate on May 1, 2009, and served in that position until December 2012. As Assistant Secretary, Ali acted as Secretary Duncan's primary advisor on equity and civil rights, and led a team of more than 600 attorneys, investigators and staff that is widely credited with having revitalized the Office of Civil Rights.

Prior to becoming Assistant Secretary, Ali served as vice president of the Education Trust in Washington, DC, and as the founding executive director of Education Trust – West in Oakland, California. She has also worked as an attorney, a teacher, liaison for the president of the Children's Defense Fund, assistant director of policy and research at the Broad Foundation, and chief of staff to the president of the Los Angeles Unified School District's Board of Education.

Ali received her J.D. from Northwestern University School of Law and her bachelor's degree from the American University. She also attended Spelman College.