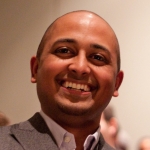 Executive Director, Training Grounds
Samir is currently the Executive Director of Cloud9 Training Grounds, which offers mentorship, coaching, and life skill development programs for young gamers. Prior to his work at Cloud9, Samir served as Chief Program Officer for Teach for America Bay Area, and prior to that, co-founded the nonprofit Mastery Design Collaborative (MDC) to support school systems in providing a personalized education for all students.

Samir previously served as a manager at Deloitte Consulting LLP, advising and implementing change management initiatives for enterprise technology transformations and mergers and acquisitions. He earned his MBA from The University of California, Berkeley and has a dual undergraduate degree in chemical engineering and liberal arts from the University of Texas, Austin. He currently resides in Austin, TX with his two sons, Sanjay and Sai.