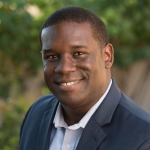 Mississippi Executive Director
Sanford Johnson (he/him/his) joins Teach Plus as the Mississippi Executive Director where he'll lead the Mississippi Teaching Policy Fellowship and lay the groundwork for a future Arkansas fellowship. A former high school social studies teacher and native of the Mississippi Delta, Sanford was also co-founder of Mississippi First (MSF), an education policy research and advocacy organization. As MSF's Deputy Director of Advocacy, Sanford led an advocacy campaign to impact education policy across 30 school districts. He also worked with educators to advance education policy addressing public charter schools, school funding, and student assessment.

Beyond his work in education, Sanford is a founding board member for Teen Health Mississippi and the Mississippi Alliance of Nonprofits and Philanthropy. As member of the Mississippi Sex Ed Training Cadre, Sanford has also facilitated teacher professional development for 7 years. Sanford chairs the Clarksdale Municipal Elections Commission.

Sanford holds a B.A. from Auburn University and a M.P.S from the University of Arkansas Clinton School of Public Service. He lives in Clarksdale with his wife, Amanda, and their two daughters, Lorelei and Ava.