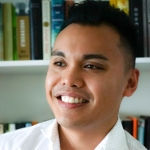 Santi Khairassame is the founder of Project Recess, an ed tech consultancy that supports New York City Public Schools in the implementation and use of digital tools, specifically Google's G Suite for Education. In addition to being a Google Certified Trainer, Santi is a Google Certified Innovator working to develop underrepresented groups within the edtech space. In keeping with his commitment to deepening student learning, engagement, and empowering educators, Santi regularly leads workshops and professional development opportunities around New York City.

Before his venture into instructional technology consulting, Santi helped to found Academy of The City, a charter elementary school in Queens, New York that focuses on supporting English Language Learners through alternative instructional programs. In response to the implicit biases of standardized testing, Santi co-founded OpenSchool ePortfolio, a web and mobile app that allows students and teachers to create digital portfolios for authentic assessment and project-based learning.

Santi earned a master's degree in educational communication and technology from New York University and a bachelor's degree in film, video & digital media from The University of Illinois at Chicago.