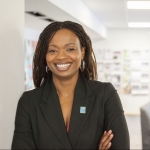 Detroit Public Schools Community District
Sharlonda Buckman is Assistant Superintendent of Family and Community Engagement at Detroit Public Schools Community District. She formerly served as chief executive officer of Detroit Parent Network, an independent nonprofit organization that she has built from a high potential startup nonprofit to the most influential parent advocacy organization in Detroit, with significant national recognition and presence for her organization's work. As a leader, she has used her voice to engage thousands of parents across multiple education systems to be more conscious, intentional, and engaged on issues that impact their children. Sharlonda has served in leadership roles within the human services field for more than 25 years in local and national agencies.

Sharlonda serves on the board of Michigan Future Schools, New Detroit, Excellent Schools Detroit, and Michigan College Access Network. She has been the recipient of several awards including the Judge Wade McCree Jr. Friend of Children Award, Spirit of Detroit, Crain's Detroit Business 40 Under 40, the Detroit News Michiganian of the Year, Michigan Chronicle Legacy Award, Women of Excellence and others for her personal and professional accomplishments.

Sharlonda takes a leadership role in helping to create an improved education landscape for Detroit's children. She is sought to speak locally and nationally, most recently leading the launch of the International Education Colloquium in Bermuda. She was appointed by Michigan's Governor to the Education Achievement Authority Board, which supports the redesign of public education in Michigan's lowest performing schools.

Sharlonda earned her master's degree in community economic development. She is a mother, a wife and a committed member of the Detroit community.