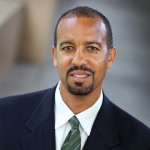 Senior Vice President, College and Career Access
Steve brings 25 years of experience working in education, philanthropy and issues related to urban poverty in his role as senior vice president of college and career access, a newly created division of The College Board. In this role, he will be marshaling the substantial reach of The College Board's products and networks to build coherent pathways to college, for a rapidly expanding group of first generation and low income students. Prior to this role, Steve served as the president of the ECMC Foundation, a national funder focusing on education issues in low-income American communities. Before that, he was the first executive director of the Specialty Family Foundation, a Los Angeles-based funder focusing on education, health and food security issues in low-income communities in Southern California. Steve began his career running a successful education program in Southeast Washington, DC, which is featured in the award-winning documentary Southeast 67. Steve has published scores of articles and has been a regular speaker on issues related to poverty and race.

Steve holds a Masters in Business Administration from Stanford University and a Bachelor of Arts from Yale University. He is raising two sons in Washington, D.C.