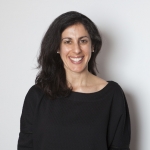 Executive Director and Founder
Beyond100K (formerly 100Kin10)
Talia Milgrom-Elcott is the founder and executive director of Beyond100K, formerly 100Kin10. With 100Kin10, she led a network of more than 300 organizations to successfully reach President Obama's 2011 call to prepare 100,000 excellent STEM teachers by 2021. Beyond100K has set its sights on preparing and retaining 150,000 STEM teachers in the coming ten years, focusing on representation, equity, and belonging. Talia's innovative work has been featured in Forbes, the Stanford Social Innovation Review, Harvard Business Review, and other publications.

From March 2007 to December 2013, Talia worked as a program officer at Carnegie Corporation of New York, focused on getting great teachers and principals into high-need schools and supporting them to thrive there. Prior to joining Carnegie Corporation, Talia was the deputy chief of staff for the New York City Department of Education. From 2003 to 2004, Talia served as a clerk in the Second Circuit Court of Appeals with Judge Robert Sack; the year before that, she was an economic justice and Workers' Rights Legal fellow with New York Jobs with Justice.

She graduated magna cum laude from Harvard University and Harvard Law School. She loves living in Brooklyn, NY, with her husband and their three fierce, fun, and loving (most of the time!) daughters.