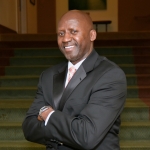 John F. Kennedy University Online
Dr. Thomas Stewart is president of Patten University, which has a mission to make a quality and affordable post-secondary education available to people everywhere. He has been actively involved in education reform and innovation for nearly twenty years. He has co-founded and led over twenty organizations within and across nonprofit, public, and for-profit sectors, including the Black Alliance for Educational Options, SEED Public Charter School of Washington, DC, National Black Graduate Student Association, and Community College Prep Public Charter School in Washington, DC.

Thomas is involved in a variety of civic activities, including a recent appointment to the Western Association of Schools and Colleges Senior College Commission. He has authored numerous publications focused on various aspects of education reform, particularly the challenges and opportunities facing low-income, first-generation and non-traditional students and families. Most recently, he coauthored (with Dr. Patrick J. Wolf) The School Choice Journey: School Vouchers and the Empowerment of Urban Families (Palgrave and McMillian 2014).

Thomas received a bachelor's degree, with honors, from the University of the District of Columbia, and PhD in Government from the Harvard University Graduate School of Arts and Sciences. His friends call him Tom, and he enjoys running, hiking, Bikram yoga, and live sporting and other entertainment.