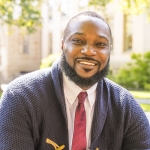 Dr. Thomas Witherspoon is the University of Tampa's inaugural Chief Diversity Officer. Before joining the UT team, he was the Vice President for Diversity and Inclusion at Whitman College. Additionally, he has held leadership positions at Boston University, Dartmouth College, Denison University, and North Carolina
State University. He brings with him to Tampa a professional portfolio with nearly 20 years of experience. Dr. Witherspoon's work history is steeped in the strategic practice of collaborating across a variety of offices, including Multicultural Student Affairs, Orientation, Title IX, International Services, Religious Life,
Wellness, Greek Life, and Bias Response. While a member of multiple president senior leadership teams, he's supported students, faculty, and staff in building diversity, equity, inclusion, and belonging both on campus and in the greater community.
Dr. Witherspoon's research focuses on the achievement and success of low-income men of color in historically and majority white-dominated spaces. He utilizes narrative analysis and inclusive pedagogy to interrogate higher education policies, practices, and success.

Dr. Witherspoon prides himself on being a first-generation college graduate and holds an Ed.D., in Higher Education Administration; M.A., in InnerCity Education; and B.A., in English Literature. He has received prestigious fellowships from The College Board and Pahara NextGen. Outside of higher education, Dr. Witherspoon is a self-proclaimed photographer, avid reader, and collector of cultural artifacts.