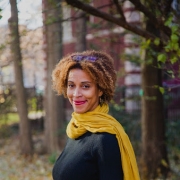 Senior Vice President, General Counsel, Chief Risk & Compliance Officer
Tracy-Elizabeth Clay is the Senior Vice President, General Counsel, and Chief Risk and Compliance Officer for Teach For America (TFA). Tracy-Elizabeth leads the Legal Affairs, Risk and Compliance (LARC) which provides the legal, risk management, insurance and internal audit services that enable the organization to pursue its mission of educational equity. Since 2009, Tracy-Elizabeth also serves as the Corporate Secretary for the TFA national board of directors in which capacity she oversees all governance matters and functions as a strategic thought partner to the CEO and board.

Tracy-Elizabeth earned her B.A. from Stanford University and is a magna cum laude graduate of Harvard Law School. After a federal clerkship with the Hon. Anne E. Thompson, Chief Judge of the U.S. District Court of New Jersey, Tracy-Elizabeth began her legal career at the Hogan Lovells law firm in Washington D.C.

In the wake of the September 11th attacks, Tracy-Elizabeth left private practice to join TFA's national staff. In 2003, Tracy-Elizabeth launched TFA's Greater Philadelphia region and served as the founding Executive Director until 2006 before becoming the organization's first full-time general counsel. In addition to her service with TFA, Tracy-Elizabeth was also the founding general counsel for Teach For All (2008-2011) and Leadership for Educational Equity (2009-2014).

Tracy-Elizabeth lives with her family in Oak Park, IL the same community where she grew up. She is active with various parent organizations, her church, and several professional organizations. In her free time, she enjoys reading, camping with her daughter, tennis and theater.