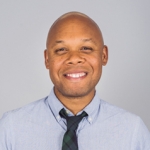 Diversity, Equity, and Inclusion Partner
Tre Johnson is a career educator and freelance writer on race and culture. Tre is currently the diversity, equity, and inclusion (DEI) partner for Catalyst:Ed where he connects DEI consultants to DEI capacity-building projects for organizations and leaders in the public sector.

He started his professional education career as a high school English teacher in Houston, Texas, and has since worked in Columbia, Maryland; Washington, D.C.; Philadelphia, Pennsylvania; and Camden, New Jersey. His roles have included administrative positions in schools, executive director for Teach For America Greater Philadelphia, and senior manager of the District Advisory Board and Strategic Partnerships in Camden City School District.

His freelance career as a cultural critic and essayist has included appearances on CNN Tonight with Don Lemon, CBS This Morning, PBS NewsHour, and NPR's Morning Edition. His writing has appeared in Rolling Stone, Vanity Fair, The New York Times, Vox, San Francisco Chronicle, The Washington Post and several other outlets. He's also given keynote addresses and lectures at the University of Pennsylvania, St. Mary's College of Southern Maryland, and Lewis & Clark College speaking on race, popular culture, identity.

Outside of education, Tre has served as board and vice chair focused on issues such as education, teacher diversity, and juvenile sentencing and reentry. Tre is a graduate from the University of Maryland, proudly born and raised in Trenton, New Jersey, and currently lives in Philadelphia, Pennsylvania.