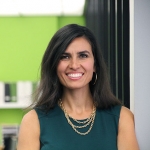 Veronica Melvin joined the LA Promise Fund as its CEO in November 2011. Passion, activism, empowerment, and learning are four key qualities that are present throughout Veronica Melvin's dedicated work in the fields of education and health for children and families. These attributes, that have defined her life and career, are the reason why she received a Presidential appointment to a White House commission on educational excellence.

As Chief Executive Officer of LA Promise Fund, Veronica guides a dedicated, reform–minded education organization with a mission to raise private funds to improve public education opportunities across LA County, while simultaneously leading a network of schools in South Los Angeles.

Known for her organizational leadership and unwavering passion to uplift and empower communities, Veronica Melvin is a champion of children and families. The LA Promise Fund achieves this goal by operating two charter schools known as the Westbrook Academy serving students grade 6-12 and by offering an array of high quality enrichment programs that build students skills in leadership, activism, STEM, and arts as well prepare African American and Latinx students for success in college and career.

Veronica previously served as the Executive Director of the Alliance for a Better Community (ABC), an organization working to improve the quality of life for Latinos in Los Angeles through systemic policy reforms. She also serves on the board of Vision to Learn and SLATE-Z.

Veronica earned her Bachelor of Arts in Political Economies of Industrial Societies from UC Berkeley. She earned her Masters of Public Policy from UCLA's Luskin School of Public Affairs.