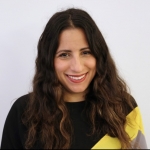 Yasmin Fodil is the Chief Program Officer at 100Kin10, a national network committed to solving one of our country's most pressing challenges – giving kids a great STEM education – by adding 100,000 more, excellent STEM teachers to America's classrooms by 2021.

Yasmin's career has focused on helping organizations solve pressing public problems in creative ways, along with working at the intersection of human-centered design, innovation, audience engagement, and change management. Yasmin previous positions include serving as a community organizer with Green Corps, an information officer at the New York City Department of Education's Office of the Arts and Special Projects, and a senior strategist at GOODcorps. In addition, Yasmin is also the founder of BYO projects, a consultancy that uses design and technology to help organizations better engage with and serve their constituents.

She has a bachelor's degree in government from Cornell University and a master's degree in public policy from Harvard University. In addition to her work at 100Kin10, she is also an Adjunct Professor at New York University Wagner, where she teaches Digital Innovation Lab, a masters-level course she designed to help future public servants enhance their ability to solve public problems with digital technology.