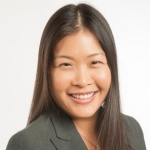 Washington Latin Public Charter School
Yinnie Tse manages the finance, HR and IT of the Washington Latin Public Charter School as the director of finance. A diverse by design school where the lived shared experiences with those different from yourself can build bridges and the mission is to nurture our students to become thoughtful people who will contribute to the public good and continue a lifelong quest towards a fuller humanity.

She has served as chief of staff to the Deputy Chancellor of Innovation and Systems Improvement at the District of Columbia Public Schools (DCPS). In this role, she designs systems, aligns processes, and refines operations to support the district vision that every student feels loved, challenged, and prepared to positively influence society and thrive in life. Previously, Yinnie was director of operations for Learning Together to Advance our Practice (LEAP), DCPS' initiative to empower teachers to help each other improve their craft. Before joining DCPS, Yinnie worked at The Broad Center as deputy director of The Broad Academy, a two-year fellowship for K-12 school-system leaders. There, she identified candidates with the highest potential to catalyze equity and drive dramatic student gains. She also helped develop program curricula on topics such as user-centric design thinking, change management, and public engagement.

Earlier in her career, Yinnie was assistant director of finance at the Brookings Institution and worked as a financial analyst in the equity capital markets at Morgan Stanley. She earned a bachelor's degree in philosophy and economics from Wellesley College.