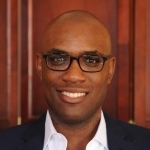 Aaron T. Walker is founder and chief executive officer of Camelback Ventures. Camelback Ventures increases access to opportunity for entrepreneurs of color and women by investing in their ventures and leadership while advocating for fairness in their funding.

Since 2015, Camelback has nearly 100 investments and has helped those companies raise over $60M. Aaron is on a journey to live in the spirit of his baseball hero, Jackie Robinson, who said "a life is not important except in the impact it has on other lives." With this ethos, Aaron taught ninth grade English in West Philadelphia through Teach For America, put together deals for companies large and small as a lawyer at Allen & Overy, and supported new ideas to improve education as a portfolio director for the NYC Fund for Public Schools.

Aaron is humbled to say that he graduated from the University of Virginia and Penn Law School. Aaron was lucky (and smart) enough to marry an amazing woman and is blessed with two children, Langston and Amara.