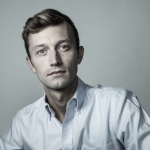 Adam Falkner (Pahara Cohort NG5) is vice president of design for the Pahara Institute, where he serves as a Fellowship moderator, and supports program design efforts to ensure the organization's commitment to racial equity.

Adam holds over a decade of cross-industry experience building creative diversity curricula and cultural programming for corporate, academic and nonprofit leaders. Immediately prior to joining Pahara, Adam managed inclusion programming for Pinterest's global employee base and served as a senior consultant with Jennifer Brown Consulting, where he led large-scale DEI strategy work for a diverse portfolio of corporate clients.

A former English teacher in New York City's public schools, Adam's pedagogy and research focus on understanding how performance, storytelling and technology work to foster racial literacy in individuals and organizations. He is the founder of the innovative arts-based consulting nonprofit, The Dialogue Arts Project, and has held teaching appointments at Vassar College, with the US National Park Service, and elsewhere.

As a writer and performer, Adam's work explores intersectional themes of race, queerness, and masculinity. He is the author of The Willies (Winner of the 2021 Midwestern Independent Book Award) and his work has appeared in The Guardian, The New York Times, on HBO, PBS, and as the featured poet at President Obama's Grassroots Ball at the 2009 Presidential Inauguration. Adam holds a PhD in English & Education from Columbia University, and he lives in Brooklyn – land of the Lenape – with his small but mighty wire-haired terrier, Olive.