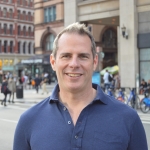 Adam Freed is an experienced technology leader with a focus on education technology. Adam is currently Board Chair at Teachers Pay Teachers  (TpT), where he served as CEO. Adam is also senior advisor to GSV and a board member at Cambium Learning — as well as a Pahara Fellow at the Aspen Institute and a trustee of the Brooklyn Children's Museum.  Adam advises numerous additional start-ups in consumer- and education-technology.

Adam is an alum of Etsy and Google.  He was COO at Etsy. At Google, he led both International Product Management and global business teams, before, during, and after the company's IPO.

Before moving into tech, Adam spent a nearly a decade as a TV reporter and anchor. Adam was an awardee of a Knight Journalism Fellowship.

Adam has a BA from Harvard in Linguistics and a masters in law from Yale. He loves foreign languages — and is proficient in 11, including Spanish, French, Japanese, Italian, Turkish, and Finnish.

Adam lives in Brooklyn with his husband and their two children.