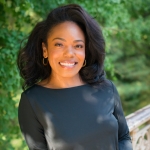 Black Education For New Orleans (BE NOLA)
Adrinda Kelly is the executive director of Black Education For New Orleans (BE NOLA), a Black-led nonprofit organization that leverages resources, talents, and knowledge of and for the Black community in order to support Black children, Black-led schools, Black teachers, as well as a holistic approach to educating our children. Immediately prior to BE NOLA, Adrinda was the national managing director of staff diversity, equity, and inclusiveness strategy at Teach For America and led several initiatives focused on strengthening staff and alumni communities of color.

Prior to Teach For America, Adrinda held leadership positions with Time Inc., McGraw Hill Professional, and The Princeton Review as an education editor focused on developing resources for underrepresented students. Adrinda is passionate about building the capacity of exceptional educators to provide a high-quality education to our children while challenging structural relationships of inequity through narrative and systems-change strategies. Adrinda has written on the intersection between race, historical narrative, and education for Teachers and Writers Magazine, Students at the Center, and the Journal of Humanities and Cultural Studies.

Adrinda graduated with a bachelor's degree in English from Harvard University and holds a master's degree in humanities and social thought from New York University. In 2008 she was a Diversity Studies fellow at the University of Cape Town. Adrinda is a proud New Orleans Public Schools graduate who credits her incredible Black teachers for her resilience, drive, and belief in the assets of Black education. Adrinda and her partner of ten years, Alix, reside in New Orleans.