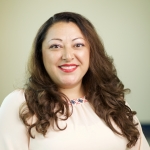 Andrea Lopez Fernandez has served IDEA Public Schools for thirteen years as a teacher, Assistant Principal, Principal, Executive Principal, Vice President of Schools and Executive Director. Andrea served as principal of IDEA College Preparatory San Juan (ICPSJ) for five years and led the campus to 100% college acceptance five years in a row and has matriculated more than 400 students to college. Andrea also led IDEA Walzem College Preparatory for two years before becoming an Executive Principal working with K-11 at IDEA Walzem in 2019-2020.

Under her leadership, ICPSJ and IDEA Walzem made solid cultural and academic gains. ICPSJ was rated IDEA's Most Improved Campus in 2014-15 and was nominated a second time in 2015-16. Additionally, ICPSJ has achieved national recognition through external rankings: this campus was ranked as the 28th Most Challenging High School in America by The Washington Post and #20 Best High School in Texas by US News and World Report. Further, IDEA Walzem College Prep was named IDEA's Most Improved Campus in 2018-19 within two years of her leadership.

As principal, Andrea coached and trained eight Principals in Residence. In her first four years of principalship, Andrea received IDEA's Annual Campus Excellence Award for Leadership Development twice. She uses this skill in her current work as a regional Execitive Director of IDEA Greater Austin, where she is working with principals and their leadership teams as well as ensuring smooth regional operations and advancement.

Andrea has a BA in history from Southwestern University, MA in Latin American Studies from University of California, San Diego, and MEd in Curriculum & Instruction from Texas State University. Further, she has engaged in post-graduate doctoral work in borderlands history at University of Texas, Austin. She is currently pursuing her PhD in School Improvement at Texas State University and has just completed her Texas certification to become a Superintendent.

In addition to the work she does as an educator, she enjoys reading, cooking, crafting, spending time with her husband, Dario, and their two dogs, Bullet and Knibbe as well as with the rest of her family.