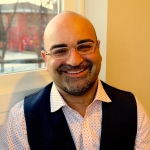 Aylon is co-founder of Transcend, a new organization dedicated to the creation and proliferation of breakthrough school models. Since 2012, Aylon has been providing strategy and design services to education organizations, schools, and foundations. Most recently, Aylon has been designing and building two new "Greenfield" school models for the Achievement First. Prior to this, Aylon served as Chief Schools Officer at Rocketship Education -- designing the academic model and blended learning approach, and growing the network from 3 to 7 schools.

Aylon also served as a Senior Vice President at Teach For America leading pre-service institutes and in-service support for corps members in their 2-year teaching commitments during a period of growth from 4,000 to 8,000 corps members.

Aylon is a proud husband and father and an accomplished jazz guitarist with two released albums and regular performances throughout the Midwest.