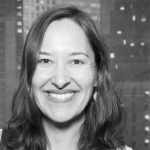 Executive Coach, Regional Leadership
Beth Thompson is currently an Executive Coach at the KIPP Foundation where she builds capacity in KIPP's regional CEOs and their leadership teams. Beth was previously the founder and CEO of KIPP Northern CA Public Schools for 15 years. In this role, she led the organization to consistently outperform district and state achievement levels, resulting in multiple California Distinguished School and National Blue Ribbon designations; expanded to a TK-12 system of schools across five counties serving nearly 7,000 students and supporting 3,000+ alumni in their postsecondary path; raised over $250M in philanthropic support of KIPP's mission; and oversaw an operating budget exceeding $100M.

Previously, Beth was the West Coast Trailblazer at the KIPP Foundation, where she created and implemented a strategic growth plan for KIPP schools, including securing charters, start-up funding, facilities, and community support. Prior to her work at KIPP, Beth was on the founding team of NewSchools Venture Fund, a national nonprofit venture philanthropy working to reimagine public education. She holds a B.A. in political science, Masters in Education, and Masters in Business Administration from Stanford University. She is a proud resident of Oakland, parent of two elementary-school children, and Board member of Braven Bay Area, Caliber Public Schools, and Cambiar Education.