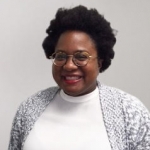 University of Minnesota Law School
Brandie Burris is a law student at the University of Minnesota. During her final Pahara session, Brandie shared her intention to enroll in law school, and she did it. As a law student Brandie focuses her studies on critical race theory and the law as a tool for social change. In 2021, Brandie was elected as the first Black editor-in-chief of the Minnesota Law Review. Prior to law school Brandie was a policy director at EdAllies, an education advocacy nonprofit, in her adopted home of Minnesota. At EdAllies, Brandie led the team's work on school choice and quality. She partnered with educators, parents, and advocates to advance policies to create high-quality educational opportunities for Minnesota's most underserved families.

Originally from the South, Brandie's career in education began in Louisiana. During her tenure in Louisiana, she taught second grade as a Greater New Orleans Teach For America corps member, and launched an entrepreneurial venture to help teachers better track progress for their students with Individualized Education Programs (IEPs). She also served in both the human capital and charter school offices at the Louisiana Department of Education and Recovery School District, where she created and implemented policies to improve the quality of public education across the state.

Brandie earned her bachelor's degree at the College of William and Mary. Brandie now lives in Minneapolis, Minnesota with her daughter, Yara, and their dog, Liev.